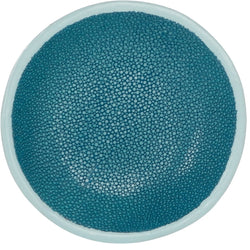 Sky Blue Stingray Dot
This signed one-of-a-kind piece is handmade of genuine polished deep sky blue stingray and veg tanned leather that I wet molded into its final shape. I highlighted the exterior with 24 karat gold leaf. It's perfect for displaying on its own as a ring dish, or grouped with other pieces and hung on a wall.

4.875 x 4.875 x 0.875 in



Stingray, leather, 24 karat gold leaf
For display only, not food safe.
About stingray leather: This type of stingray (dasyatis bleekeri) is a non-endangered animal native to Asia.